Consulting
As well as offering preserved roses, fillers and foliage, Ecuador Forever has developed over the past few years a consulting service based on our experience and knowledge.
We offer training and guidance in the creation of your floral design project, as well as in the sales of preserved roses and other flowers. Currently, the most popular concept on the market is a Rose Box business – which we will explain throughout our consulting service. Our service adapts perfectly to every type of floral design project and sale of preserved flowers.
Our consulting services are available for any individual or company wishing to get started in the business of preserved flowers.
According to your needs, we offer different modules which you can purchase as a whole or by unit of interest.
We offer our expertise on the following modules:
1. Business Plan Creation
a. Rose Box (or similar) project description and objectives
The project objective is to create high quality preserved floral arrangements appealing to a world-wide audience and with a high level of added value. In terms of profitability, the ratio between fresh flowers and preserved flowers is 1 to 5.
Nowadays, the Rose Box is the ideal present for every occasion: Birthdays, weddings, graduations, births, Mother´s day, Father´s day, sentimental gifts, souvenirs and national celebrations for each country. What´s more, many flower lovers adore them and everyone involved in decoration, whether it be for personal or professional use.
b. The Brand
We help you to choose the most appropriate brand, because this plays a big role in the success of the business. In fact, our team has many brand ideas that would go perfectly your company image. We help you also to create slogans and develop colors that accompany your brand and that will entice your clients.
c. The Logo
Our team will help you to create a logo according to specific factors relating to preserved flower sales and the market which you wish to target.
We give you all the necessary advice in order to create your visual identity and how to apply this to all areas of your product, such as boxes with different colors and textures and acrylic boxes. We also show you how to digitally apply your visual identity, including your logo and brand, online and on social media.
d. The best location for a showroom, a boutique or a stand
The showroom, although not essential, allows you to develop and consolidate your image and the professionalism of the business. It can be under its own name or integrated as part of another business in the fields of luxury items, gifts or flowers. It is essential to find the best location in order to have the best possible visibility. For example, in a luxury shopping street, or in a renowned shopping center.
In certain cases, a stand in a shopping center can generate a lot of visibility – it can be permanent or periodic, during certain festive periods or holidays for example.
Our team will help you in choosing the best option.
e. Showroom Design
After having found the perfect location, it is important to design the showroom.
We have various interior design options. Either in the display room or behind it there will be a workshop. The workshop needs both a specific and simple layout in order to ensure that the roses are stored in the best conditions. We will also help you to choose the equipment and tools that you´ll need.
f. Choosing the Rose Box boxes
Our team will help you to choose and construct a Rose Box according to your budget and rose sizes – taking into consideration shapes, sizes, colors and box textures.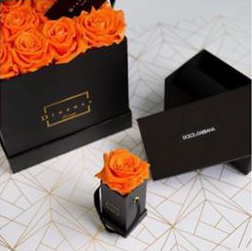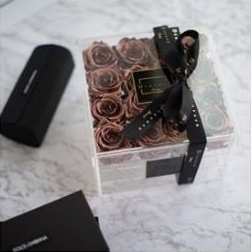 2. Marketing study of the country/ city or cities concerned in the new project
a. Competition
Before starting your project, it is essential to identify the eventual competitors in the city and/or country of your project operations. Our team will help you to identify the competition near you and will give you technical information on the main competitors in your region. We will also analyze products from the competitors in order to integrate this information in the commercial marketing strategy.
b. Rose size and color preferences
Each country and city has its preferences in terms of rose size and colors. Through our market study, we will be able to determine the best offer for your project. What´s more, our preserved roses are developed according to trends of different markets and we offer four collections every year.
Our team will be readily available to assist you in the creation of a nexclusive collection.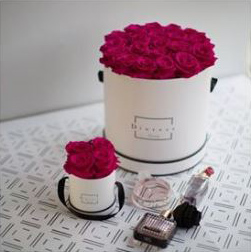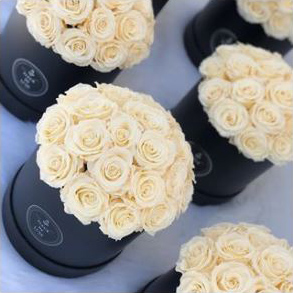 3. Online Sales Strategy Advice
a. The website
The website should be perfectly functioning from the very first day of launching and be using the latest online sales technology. We will assist you in the creation of the website which will be developed by a web agency. We will choose the agency for you and with you, according to different strict criteria established through our online sales experience of preserved flowers – assuring that you don´t waste your time with a service provider that doesn´t understand your project and who wants to impose their way of working. We will be their representative, for you, during the website preparation and construction and even after it is finished.
b. Social Media
Social media is essential for the livelihood of a preserved flowers sales project and even more so for a Rose Box sales project.
Our team will help you to get started in social media with success: Instagram, Facebook and Pinterest. Then we will share with you the best strategy to animate your social media to gain more and more followers and clients.
d. Facebook, Instagram and Google advertisement
Rose Box companies can benefit from periodically and systematically investing in advertising campaigns on social media. We analyze your market and let you know how much of you initial budget and how much of your annual budget you should put towards online promotion of your business. We will target certain areas of interest such as floral arrangements, presents, luxury, design and fashion.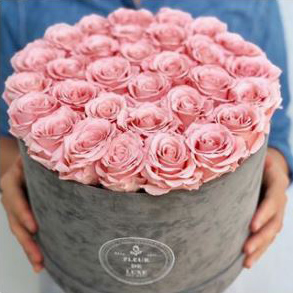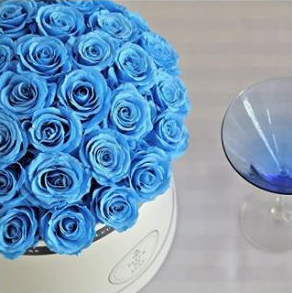 4. Team training on-site at all levels
We will train you and your teams, on-site upon request, or from afar.
i. Product sales, online and instore.
ii. Production of Rose Boxes and other floral arrangements
iii. Inventory management.
iv. Warehouse optimization for optimal flower storage.
5. Project follow-up
Once your project is operational, we will follow up and assist you in the following areas:
i. Order preparation.
ii. Purchase forecasting and management
iii. Planning for important dates throughout the year.
iv. Optimization of box suppliers and other important elements.
v. Transport and import logistics; local transport (delivery to final clients).